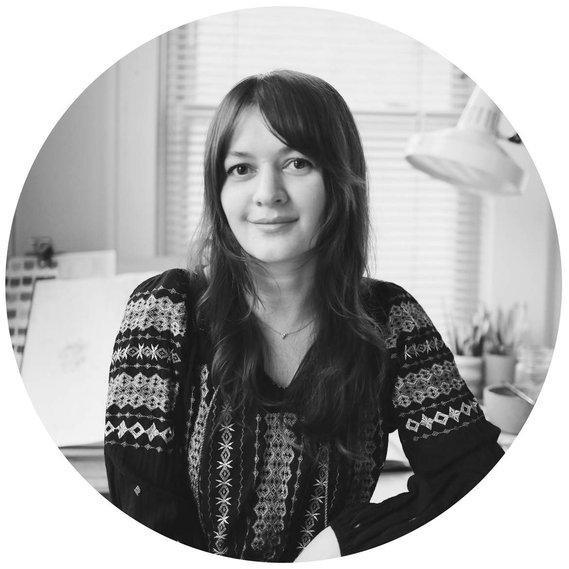 Hello!
Oana (pronounced "Wanna") is a Romanian-born graphic designer and illustrator, wife, and mother of two based in the Midwest, United States. Her mixed-media illustrations are hand-drawn and reflect her unique visual approach and love for the natural world. Inspired by folk motives, flora, fauna, nostalgia, and everyday life, she is capturing the essence of her subjects and themes with visual balance, adding a quirky and modern interpretation to them.
She also translates all the above into her stationery line, hoping to bring something beautiful into a special occasion or brighten someone's day with an illustrated card.
*
Oana is a graduate of the National University of Arts in Bucharest, Romania, where she earned a Master's Degree in Graphic Design and Visual Communication. Before becoming a freelancer, she worked in the advertising world, creating designs and illustrations for various clients such as Coca-Cola.
When she is not drawing away, you can likely find her spending time with her family, cooking homemade meals, hiking, walking through botanical gardens or art museums, and scavenging for new inspirations.
To get a behind-the-scenes look at her process and peeks into daily life, you can visit her on Instagram.
. . . . . . . . . . . . . . . . . . . . . . .
SELECTED CLIENT WORK:
Hallmark, Papyrus Greetings, Usborne Publishing, Quarto Publishing, Anthropologie, Etsy, Urban Outfitters, American Greetings, DJECO Toys, Macmillan Publishers, Trader Joe's, UK Greetings, Orange Circle Studio, TeNeues, Galison Mudpuppy, Michael O'Mara Books, Fresh Thyme Farmer's Market, Aimez Le Style, Bespoke Letterpress.
EDITORIAL WORK:
My Chicken Family: A Keepsake Album (2023) ~ Publisher: Storey Publishing
Backpack Explorer: Backpack Explorer: Rock Hunt (2023), Backpack Explorer: Discovering Trees (2021), Backpack Explorer: Bug Hunt (2021), Backpack Explorer: Bird Watch (2020), Backpack Explorer: Beach Walk (2019), Backpack Explorer: On The Nature Trail (2018) ~ Publisher: Storey Publishing
199 Flowers, 199 Things at the Seaside ~ Publisher: USBORNE Publishing
BOTANICAL INSPIRATION / A TIMELESS COLLECTION OF FLORA (artist feature) ~ Publisher: Victionary
Drawing Wild Animals ~ Publisher: Quarto Publishing Group USA Inc. | Imprint: Quarry Books
The Magical Unicorn Society: Official Coloring Book ~ Publisher: Michael O'Mara
Forget Me Not (cover art) ~ Publisher: Feiwel & Friends, New York / Macmillan Publishing Group
Creative Folk Art and Beyond ~ Publisher: Walter Foster Publishing / Quarto Books, USA.
The Golden Unicorn, Secrets and Legends ~ Publisher: Michael O'Mara

Coloring Diary ~ Publisher: MICHAEL O'MARA BOOKS
MAGAZINES:
Mollie Makes Magazine, Uppercase Magazine, Stationery Trends Magazine, Flow Magazine, Whole Foods, Artful Blogging Magazine, Picture Perfect Social Media book, Pith & Vigor Magazine, Best Health Magazine Canada, Trois Fois Par Jour Magazine.